Automotive
Walking Floor Trailers: What You Need to Know
All transportation company managers and truck drivers, in particular, understand it is vital to have the right trailer for the right job when moving certain materials. A prime example is a fact that liquids always require tanker trailers unless they are carrying products prepackaged before leaving a point of origin. Likewise, loads that are wrapped on pallets or can be easily transported as usually only require a standard box container when they need protection from the elements. Flatbeds can serve as excellent haulers as well and are often required for moving equipment, including using low-boy trailers for easier unloading and reloading when the job is finished. However, there is one form of trailer that many companies needing loose material transported cannot do without. Those are called walking floor trailers.
1

 

How a Walking Floor Trailer Works
Walking floor trailers are different from other trailers in that the floor can shift toward the end of the trailer for easy unloading. This eliminates the need for physical activity inside the trailer. They are often used instead of a dump truck because dump truck trailers are typically no longer than 26 feet. Walking floor units are generally 48 feet like a standard box container. The floor is hydraulically controlling and slides the paneled floor a few panels at one time to the back of the trailer for dumping.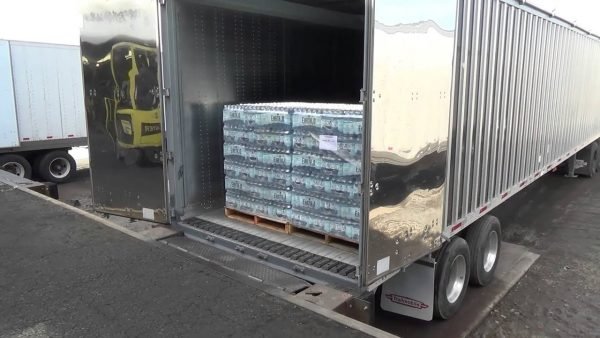 2

 

Operation Applications
Dump trailers do work well for materials such as gravel, slag, coal, and other loose materials like garbage. But walking floor trailers are very effective when moving certain materials that could result in weight problems when wet or require unloading in a compromised support dumping area. They are very effective for hauling and unloading materials such as sawdust and mulch or discarded materials from manufacturing facilities or construction projects. Companies that frequently haul specific materials that are more effectively transported by live floor containers will often buy a walking floor trailer and add it to company rolling stock for use whenever needed.
3

 

Walking Floor Advantages
First and foremost, the primary advantage of a walking floor trailer is the additional safety properties of having a live floor that can move products without an excessive physical workforce. Dump trucks are a total load dump when the bucket is lifted sufficiently, but the moving floor on a walking floor trailer allows for slower dumping in a more controlled fashion. Not only are they less physically demanding, but they are also much more efficient at controlling the dumping process. Besides, rollovers from tipped loads are not as frequent with a walking floor type, and they come in both covered and uncovered varieties. The choice on which trailer to choose depends on the materials being hauled. While loose materials that can get wet in an open trailer can increase weight and present specific problems in transporting, live floor trailers can still work more effectively with certain materials that are carried in bulk like discarded asphalt and lumber.
Always remember that the material being hauled typically sets the demand for the type of trailer needed, and a live walking floor is an option that many shipping companies will not always consider for specific transportation projects. Having the right trailer matters, and walking floor containers can easily be the best bucket for the particular hauling job. And, rentals are often available at established reputable transportation equipment companies that provide trailers for specific shipping tasks regularly.