Whether your business is new or has been around for some time, creating and maintaining an organizational chart can be a valuable method of illustrating how your company operates. This also helps when you need to develop plans and integrate changes in the future.
Planning an organizational structure for a small business is one of the first steps to success. Besides defining clear roles and responsibilities, accountability structure is an invaluable tool for strategic planning that allows you to identify gap areas and plan for your next hires. With this, you can focus on areas in which you can add the most value.
This guide explains why having a small business organizational chart is essential. Likewise, we'll share some samples and techniques for creating one.
1

 

What is an organizational chart?
Often referred to as an "organizational chart," an organizational business chart displays the structure of your organization. It shows who reports to whom and what their responsibilities are.
A company's organizational chart shows the chain of command, the number of departments, and where each employee fits into the big picture. As your company grows or pivots, as so many did during the pandemic, it is also an excellent reference tool for making decisions, such as defining what roles are necessary or can be eliminated.
2

Why do you need an organizational structure in small businesses?
The organizational structure's purpose is to promote profitable sales and happy employees, as reflected in an organizational chart. An organization chart can be a beneficial asset for several reasons. Here's how.
Clearly defines a management structure in complex businesses
Enhances operating efficiency
Displays current success
Facilitates future planning
Provides a quick look at contacts at a glance
Types of organizational structure.
The following are the types of organizational structure and templates that you can use in Venngage.
Hierarchical Organizational Structure
This is the most common structure due to its simplicity, also known as a hierarchical organization chart and a top-down organization chart.
Executives are recognizable at the top of the chart, followed by directors and then department heads, followed by the employees a department head or manager oversees. The traditional hierarchy chart is rigid and austere. Organizational layers have a one-to-one flow of information, and the structure doesn't allow teams to collaborate or open doors to upper management.
Try it out and start personalizing this corporate hierarchy chart template.
---
Functional Organizational Structure
Eventually, as your organization grows and your team gets organized into departments, such as sales, operations, finance, and customer service, you will need to develop a functional organizational structure.
This also allows managers and directors to collaborate in areas they do not oversee directly, ensuring a better flow of information.
This template shows a functional organizational chart.
---
Circular Structure
Within a circular structure, higher-level employees occupy the inner rings, and lower-level employees occupy the outer rings. Rather than being at the top of the organization, the executives sit inside, where ideas can spread. This structure encourages open communication and information exchange among all divisions within the organization.
People often find this organizational structure confusing because they are unsure where they fit and who they are supposed to report to. Nonetheless, if communication is encouraged throughout a business, employees can consult any supervisor for advice rather than having a rigid chain of command.
The bold flow chart template will make your chart stand out.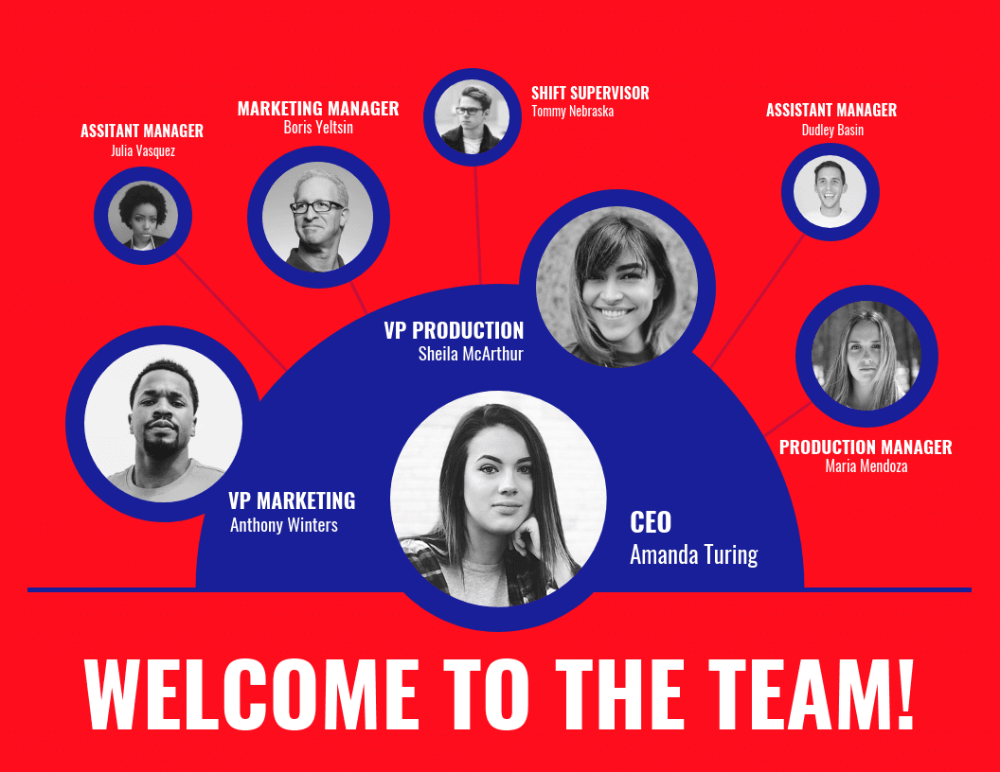 ---
Tips for building your business' organizational structure
You may find the following tips helpful as you create an organizational chart for your small business.
Describe each position in your organization chart: Think about what makes sense about the employees and executives, their skills, and how to structure the reporting system for your business in general.
Set up your organizational chart: Although many small businesses can create an org chart in PowerPoint, online platforms such as Venngage.
Include all relevant information: Create an organizational chart that includes employee images, names, and titles.
Get a trusted advisor to review your org chart: It is good to have someone check your small business organizational chart. This should be a trusted leader within the company or a mentor. By doing so, you ensure that the structure is logical.
Make it accessible across your team: Always make your organizational chart available to all employees. When changing reporting structures, don't forget to discuss it first with all affected parties.
3

 

Ready to create your small business' org chart?
It's time to plan out your business org chart to ensure your company's success. By following this guide, your team will be able to complete the process quickly and easily, whether you develop the diagram independently or work with your team.
Start with a simple organizational chart. By using Venngage, you can create a free organizational chart, which you can update by editing any text, adding boxes, or removing lines. The platform is straightforward, and you can do it even if you have no prior knowledge of creating one.