Gift Ideas
10 Ways to Make Meaningful Gifts that Show Your Love
At such a time, you should be seriously thinking about that personalized jewelry that will melt away the heart of the woman in your life. My promise to you now is to worry less; you have accessed the right site with the right content for the right person and at the right time. We have your question solved by providing you a list of 10 ways to make a meaningful gift that shows your love.
It is a season of love, and everyone would love to feel a loving charm come their way in any specific aspect. Although women tend to value the seasonal occasions of special love more than men, it is true that all people value and cherish meaningful gifts that show love especially if the present has been made uniquely. For example, if the gift comes as a custom printed Jewelry Gift that has been tailored just for love, a personalized bracelet, necklace, keychain, etc. A gift bought to make a woman feel loved and special should be a meaningful idea that leaves her awe-inspired for a long time.
This article is meant to highlight ten ways to make a meaningful gift that shows your love; ideas that are meant to explain without words that indeed you are in love. We hope that these meaningful gift ideas inspire the gentlemen out there.
What on the face of the earth can meaningfully show your love in the best way possible?
1

Personalized engraved jewelry
Small packages come along with beautiful things; personalized jewelry for her is not an exception. Imagine how you would feel receiving a piece of engraved jewelry tailored specifically for you. Would not it be an exceptional gift? To say the least, if personalized engraved jewelry is not a meaningful gift idea, then I'm sorry for I don't know what it is. Custom jewelry could be anything from a bracelet, necklace, earring, etc.
2

Personalized Heart-Shaped Necklace
Take it from me, no woman on the face of the earth will object and dislike a unique custom personalized necklace made only for her. Take, for instance, a necklace in the form of heart with her beautiful name engraved on it, or "I love U," or even just a sweet uncommon bracelet shape like oval, square, etc. but containing one, two or three words that show your love for her. I'm talking of a solution to what you have been thinking for long. Yes! Personalize it! Make meaningful gift ideas from this article. Personalized necklaces of whatever preferred color, type, or shape are the magic wand that you have been looking for. Keep it simple, make it look like the only one of a kind and boom 'you will have massively expressed your love'. Besides, you can DIY it, following a few steps and alas your necklace is done.
3

Personalized Bracelet
A personalized jewelry gift plays a pivotal role in expressing the love you hold for her, specifically if it is a custom printed bracelet or bangle. Look around but don't ask the women you come across in the streets or your neighborhood; a big percentage would be having the personalized bracelet on their wrists. That's enough proof that I'm real, truthful and factual.
4

Personalized jewelry boxes and trays
An amazing way to keep saying it without words each morning that she turns up to select from her collection of custom personalized jewelry. Tailor that jewelry box or tray, you know the reason but she doesn't, you know you desire to say it loud without talking "I LOVE YOU" each morning while she opens that personalized jewelry gift box. It is all about ways to make meaningful gift ideas, and I keep them flowing.
5

Door or car Keychain
Does a car or door keychain qualify to be categorized as jewelry? Your unbiased answer is as mine. Make it linger on, the longer the impression stays, the better. Personalize the door keychain and make her swing that keychain happily. Make her love holding it each moment as it reminds her of your love. Most women love to be constantly reminded of how special they are, and a uniquely personalized keychain will achieve the objective.
6

A wrist-watch
Personalized Wrist-watch gift, always around her wrist, is a sure proof beyond all doubts that you are thinking of her. Most people would notice the watch on her wrist and the comment would be "wow, what a lovely watch! Where did you buy it?" the answer is obvious with no need to mention. Don't you see how these meaningful gift ideas work for your goal in amazing ways?
7

Personalized Diamond Earrings-rough
The list of personalized jewelry for women cannot be complete without the mention of custom diamond earrings; these little pieces of jewelry that hang on her earlobes make her look angelic and gorgeous. If possible, get the jewelery to imprint her name on them comparable to a personalized bracelet or necklace.
8

Personalized Diamond Eternity Ring
An exclusively custom jewelry gift for women is specifically developed with her in mind. A personalized diamond eternity ring is the best piece of jewel to present as a gift. Ring on her finger is an all-around proof to her that she has booked a permanent place in your heart and that you indeed truly cherish her. Diamond rings' effect is meant to last more if they are personalized.
9

Bangle Spiritual Armor
Personalized bracelet engraved with the intention of letting her know that you both are symbolically together is, whatever the occasion is, a killer punch in showing your love. The Bangle spiritual armor is an extraordinary way with an extraordinary meaning of "I LOVE YOU" in that its intricate knot design that denotes two people together in an everlasting journey of spirituality.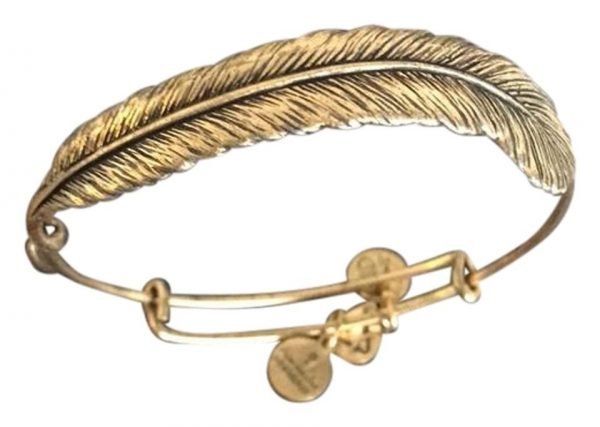 10

USB jewelry
Our last custom jewelry gift idea will indeed baffle you. Talking of multi-face jewelry, what jewelry idea comes to your mind? How about a necklace with a shape of a heart that eventually unfolds to unleash a USB storage. Amazing, isn't it? Believe me, when she'll chuck out her personalized necklace and boom the USB device, she'll no doubt mimic a spy movie. What a unique way to end my list of 10 ways to make meaningful gifts that shows your love.