To control your pet hair in your home, you should have grooming tools to keep your pet looking fine. Using brushes, shedding tools, shampoos, that available in your pet supply stores. Grooming is considered an important part to keep your pet healthy. Long and medium-haired pets need regular brushing. All pets need also regular bathing that depends on its breed and coat type, so you should ask your vet to recommend the best bathing regimen for your pet. Professional grooming should happen every 4-6 weeks. You may take your pet to a professional groomer who is trained to groom your dog with a gentle hand. You should also keep your home clean by keeping furniture covered with a throw or sheet, but vacuuming is your best way to control your pet's hair. There are also many techniques to control your pet's hair at your home.
1-Regular Brushing is necessary for your pet
You should brush your pet's hair regularly, especially in the spring season. According to your pet's coat type, you may use wire slicker brushes, undercoat rakes, shedding blades to brush your pet. Going outdoors for brushing your pet is must. To keep your house clean.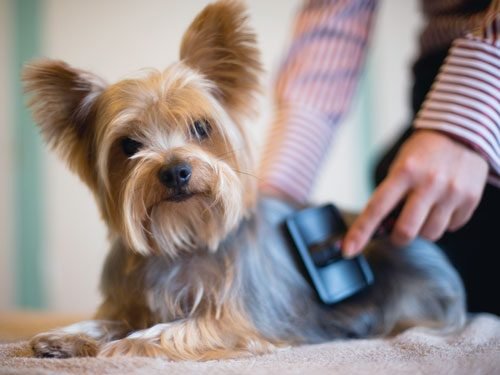 2- You should cover your furniture
You should cover your furniture to keep it clean if your pet is allowed on it. If you have guests, remove this cover and put it in the wash, but if you don't have furniture that lends itself to slipcovers, protect it by using a sheet that you can remove if you want.
3-Keep up with vacuuming
Some dog breeds need to use vacuum daily to keep up with the hair they drop that is having many models designed to help pet owners to clean the hair from the floors. You should use it in the right way for your pet. Although vacuuming is considered a good way to control your pet's hair, most dogs don't like it, so you should use it gradually.
4- your pet should have a bath regularly
Your pet should have a warm bath before brushing to remove the dead hair. You must consult your vet about the suitable shampoo for your pet and the suitable gloves you should use, then you may dry your pet's coat to get rid of loose hair in its undercoat. To encourage your pet to have a bath, you must praise and practice it
5- Try the rubber glove trick
The rubber gloves used to clean dishes can be used also to collect loose hair by running your hands over the furniture, carpets and four-legged culprits.
6- Get the Easy-to- miss spots
The hair of your pet may get to hard-to-reach places like under the refrigerator, under the furniture and long curtains. Your pet loves to cling to carpets and fabrics and mocks your silly attempts to vacuum it up, so its hair floats on everything you own. You might not notice it, but you must keep these spots in your mind for deep cleaning.
7-Clean out vents and filters
If you have a pet in your home, using vents for heat and cool your home will collect pet hair. A flat duster used to get the fur out. You should use more filters more than the company recommends to catch the hair of your pet. You must clean it regularly to remove the hair from it. Obviously, frequent filter changes are a must.
Brushing your pet regularly is healthy for it, besides bathing regularly. Bathing at home is a good thing, but if your pet isn't dried or use a wrong shampoo, its skin will be affected negatively. You should use a furminator to get rid of the hair of your pet. This tool can be used for cats and dogs to do brushing outdoors, so the hair of your pet will fly outside your house and not inside your house. If you have to do brushing indoors, use a towel and lay your pet on the towel when brushing to avoid getting the hair of your pet on the floor. You should take your pet to a professional groomer to carry out a special shedding treatment on your pet twice during the spring and fall season. Vets advise the owners of pets to brush their pets once or twice a week. Before adopting a pet you should understand its requirements in terms of veterinary care, nutrition, and maintenance.