We all want to live in a happy place where we can spend a healthy and relaxing time with our family and dear ones. For this, what comes first in our mind is home. Home is no doubt one of the best places that not just make a family united but is also a reason for relaxation. So in today's article, I'm going to jot down some interior design color ideas that can simply make your living place incredible. Apart from this, you can also apply these ideas and avoiding others to your working place just for the sake of gaining an eco-friendly space.
Why Interior Designing

?
Interior designing not just only turns your place fabulous but also re-creates it with new ideas and style. It doesn't matter how old is your living or working space; you can make it new at any time effortlessly. With the help of interior designing, you can turn your place into a new look with so many stupendous designs and styles.
To consider this, and after a long search, I have brought you the top 15 interior design colors for 2022. So, through this, you can easily pick the best one according to your color taste and make your living and even working place well-organized and vital.
1

Natural colors and sustainability
One of the evergreen patterns for your place is the pickings of natural colors. Natural colors with the combination of decent wall paintings or a plain wall with a center painting give you a perfect look. This combination of natural colors is perfect for your living or working place.
2

Curved sofa and flowers
If you are a lover of art and paintings, a simply curved look with soft colored furnishing is perfect for you. To make this look more enticing for your mood, choose your favorite combination of colors. You don't have to change the whole furniture of the room; a sofa with a decent floral vase is enough to make your space amazing.
3

Pastels trend
Since the beginning of the New Year, the pastels are known as a huge interior design color trends.  The quality of this trend is that it has a neutral shade look. So, you can pick any color according to your desire, then set your furniture without the need for any specific colors to match the wall painting.
4

Eclectic Look
This trend is for those who want to fill the walls with so many different portrays and the lovers of edgy shades. You can set so many designs, frames, and patterns together with bright shades touch.
5

Biophilia
Biophilia is for nature lovers. It is 2022's best on-going trend. To set a sitting arrangement that looks and feels like an open-air space with a surrounding of organic, plant-life, and nature is quite enough to soothe your mind.
6

Gendered Room
This interior color trend is also quite famous. Some people are gender-conscious who love to arrange their homes according to gender-based factors like a macho look, girlish textures, universal emotional and all. So, if you are a gender-conscious, then you can design your room according to your mentality without any asking.
7

La Café Look
Blush walls with accent floors and brass pendant lights are enough to turn your place into the café look. You can change your kitchen or living sitting area into the LA café look with this little effort and changes.
8

Feminine Look
Blush, dusty and bronze walls with decent furniture and plain soft pink sheets are the right deal for your feminine look. To make it more prominent, a touch of warm colors plays a vital role and make it more phenomenal.
9

Fabrics and Wallpapers
Traditional, abstract, and floral patterned wallpapers and straight-up chintz are an evergreen trend that never turns old.
10

Wood Look
If you want nothing but simplicity, then a complete wood floor with decent furniture is an ideal deal for you to avail.
11

Grays
Grays with neutral tones or a slight touch of white warm stark is a perfect color set for rooms.
12

Boho Vibes and twists
Pattern fabrics with a combination of vintage and modern along with curved lines are enough to give you a boho look. You can set the layering, patterns, and fabrics according to your color taste.
13

Monochrome look
Rooms one color are perfect for mature persons. To make it reputable, you can set elegant furniture pieces or install a plain wood floor.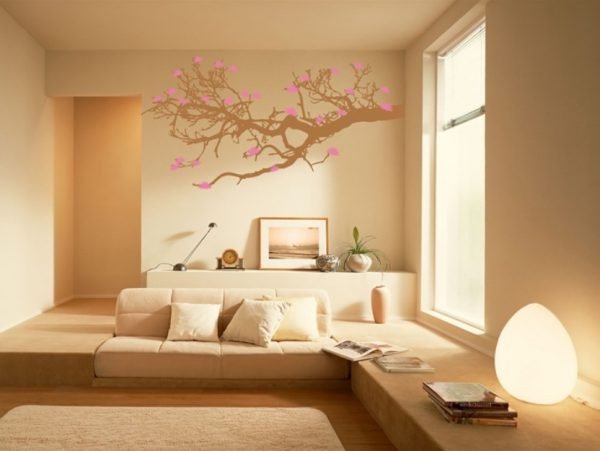 14

Acrylic Look
This is, in other words, an interior look that requires nothing except for using acrylic decorative items.
15

Copper touch
If you want a combination of vintage vs. modern styles with a natural look then flashy and fun accents of copper metals are the right way to go.
Hope that after checking these interior design color ideas, you can pick the best one for you and make your place perfect and incredible.